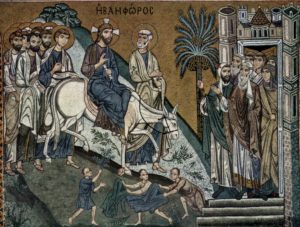 Emmanuel's number one concern during this pandemic is the safety and well-being of the members of our congregation, their families and friends. Our practice of offering online worship will continue through Easter Sunday, 4 April 2021. We live in hope that soon thereafter we will be able to regather for limited in-person services in the church. Here is our Holy Week & Easter schedule.
Palm Sunday, 28 March

: We will hear the story of the Triumphal entry into Jerusalem by Jesus, the Passion according to St. Mark, some brief prayers, and then celebrate Holy Communion. We will have both Palm Branches and consecrated Communion Cups for you to pick up that week. Live at 10:00 AM. The Worship Bulletin with the complete Passion Gospel is available here: Palm Sunday B 28 March 2021

Maundy Thursday, 1 April:

We will commemorate the Last Supper with a service which will be broadcast live at 3:00 PM. Communion cups will be available for this service as well. Maundy Thursday B 1 April 2021 Script

Good Friday, 2 April:

The Rector will narrate the Stations of the Cross with contemporary and classical images of Jesus' final journey to Mount Calvary. This will be followed by a reading of the Passion according to John, and the "Solemn Collects." There will be no Compline that evening.

Saturday, 3 April:

Sadly, the "varied changes and chances of this world" have intervened and the decision has been made to cancel the Easter Vigil service. This is in many ways the most important service of the year (Maybe more that Easter Sunday) but it has to be done right with all the various pieces, which just didn't come together this year. Rather than do it badly, we have decided to wait till next year in the hope we can do it well again.

Easter Sunday, 4

April

: We will celebrate the great Feast of the Resurrection at 10:00 AM.
All of these services will be available on our

YouTube Channel

.  You are welcome to join us live, or watch when you can.
Please note that Communion cups and Palms may be picked up at the Parish Hall on Saturdays from 10:00 AM to Noon. If you cannot pick them up, we can arrange to have them delivered to you.